As a professional phycical therapist, I have seen the Gua Sha massage trend rise recently, and for a good reason. This ancient Chinese technique has been used for centuries to promote healing, reduce inflammation, and enhance circulation. It is no wonder that it has made its way into the beauty industry as a way to promote a radiant and youthful facial glow. In this article, I will share everything you need about Gua Sha facial massages, including the benefits, how it works, and the best places to get one in NYC.
What is Gua Sha Facial Massage?
In Gua Sha, a practitioner scrapes the skin with a smooth-edged tool made of jade or rose quartz, a common material in traditional Chinese medicine. This technique stimulates blood flow and lymphatic drainage, reducing inflammation and promoting healing. When applied to the face, the Gua Sha tool is gently scraped along the contours of the face, promoting circulation and reducing puffiness.
Benefits of Gua Sha Massage
There are numerous benefits to receiving a Gua Sha facial massage. One of Gua Sha's primary benefits is its ability to diminish under-eye puffiness. Dark circles under the eyes may also be diminished because lymphatic drainage is stimulated. Gua Sha can also stimulate collagen formation, which contributes to a more youthful appearance. In addition to improving your skin's health, this practice is excellent for relieving tension and promoting relaxation.
How Gua Sha Massage Works
Gua Sha works by stimulating circulation and promoting lymphatic drainage. The Gua Sha tool is gently scraped along the face's contours, which helps promote blood flow and reduce inflammation. By boosting collagen formation, improved blood flow can help the skin look younger and healthier. Additionally, the scraping motion of the Gua Sha tool can help to release tension in the facial muscles, promoting relaxation and reducing stress.
Why Gua Sha Massage is Good for Your Skin
Gua Sha massage is good for your skin for a number of reasons. Firstly, it helps promote circulation, increasing the delivery of nutrients and oxygen to the skin cells. This can help to promote a more youthful and radiant appearance. Additionally, Gua Sha can help reduce inflammation, which can contribute to skin issues such as acne and rosacea. By promoting lymphatic drainage, Gua Sha can also help to detoxify the skin, removing impurities and promoting a clearer complexion.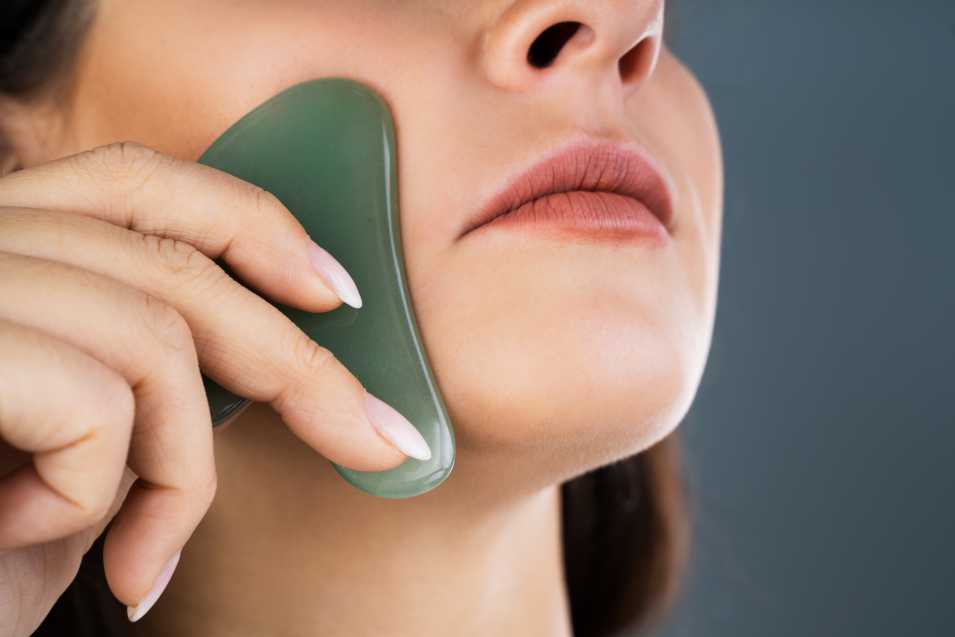 Best Places to Get Gua Sha Facial in NYC
There are a number of excellent options for getting a Gua Sha face massage in New York City. Some of my personal favorites include:
· Heyday: This famous facial spa offers a Gua Sha facial as part of its menu of services. Their skilled estheticians use high-quality Gua Sha tools to provide a relaxing and rejuvenating experience.
· Shen Beauty: This Brooklyn-based beauty boutique offers holistic skincare services, including Gua Sha facials. Their experienced estheticians use various Gua Sha tools to provide a customized facial experience.
· FaceLove: This facial spa offers a range of unique facial massage techniques, including Gua Sha. Their skilled practitioners use a range of techniques to promote relaxation and rejuvenation.
Tips for Choosing the Best Gua Sha Massage
When choosing a Gua Sha facial massage, it is important to research and chooses a skilled practitioner. Look for a spa or esthetician with experience in Gua Sha massage, and ask to see their tools to ensure they are using high-quality materials. Additionally, communicate your skincare concerns and goals with your esthetician so they can provide a customized facial experience.
DIY Gua Sha Facial at Home
If you cannot make it to a spa for a Gua Sha facial, you can also try a DIY Gua Sha facial at home. You will need a Gua Sha tool, which you can purchase online or at a beauty supply store. After washing your face properly, dab some facial oil or serum onto your skin. Using gentle pressure, scrape the Gua Sha tool along the contours of your face, using upward and outward motions. Be sure to avoid any areas of the face that are particularly sensitive or prone to breakouts.
Related Article: Ayuredic Face Mapping
The Best Gua Sha Massage in NYC
After researching and experiencing many Gua Sha facials in NYC, I can confidently say that Heyday is the best place to get a Gua Sha massage. Their skilled estheticians use high-quality Gua Sha tools to provide a relaxing and rejuvenating facial experience. Additionally, their menu of services is affordable and customizable, making it a great option for those on a budget.
Cost of Gua Sha facial massages in NYC
The cost of a Gua Sha facial massage in NYC can vary depending on the spa or esthetician you choose. At Heyday, a 50-minute Gua Sha facial costs $95, while at Shen Beauty, a 75-minute facial costs $195. DIY Gua Sha tools can be purchased online for as little as $10.
In conclusion, Gua Sha facial massage is a great way to promote a more youthful and radiant appearance while promoting relaxation and reducing stress. Incorporating Gua Sha into your skincare routine, whether at a spa or as part of a do-it-yourself facial, can have many positive effects on your skin. Remember to choose a skilled practitioner and communicate your skincare concerns, and you can enjoy the benefits of Gua Sha facial massage for years to come.
Related Article: Thai Massage Therapy NYC