DMI Therapy is a form of physical treatment that involves the training of patients by therapists in various movement patterns. The main objective of DMI therapy is to deliver a substantial amount of positive gross motor feedback, which is obtained by means of a sequence of repeating exercises. The prescribed treatment necessitates that patients engage in a minimum of five repetitions for each activity.
What is DMI Therapy?
DMI therapy, or dynamic motor intervention, is a cutting-edge approach to physical therapy for children with neurological disabilities. It is designed to provide functional motor control and stimulate neuroplasticity in the developing brain.
The program can help children with developmental delays, chromosomal abnormalities, and hypotonia, as well as those who are at risk for developing motor delays.
DMI therapy focuses on providing children with the necessary physical skills to perform tasks such as walking and running. Its innovative approach to physical therapy involves placing children into positions that help them grow their motor skills.
They are initially placed into these positions with assistance but gradually progress to a position where they can complete the exercises on their own. The results of the program can be dramatic and fast. Parents can use the program to develop their children's physical skills.
The exercises in DMI work to promote optimal alignment, balance, and range of motion. They are designed to stimulate the growth and development of specialized synapses in the brain and improve a child's range of motion and ability to walk.
The exercises are designed to work with the child's individual physical limitations and ensure that they reach milestones.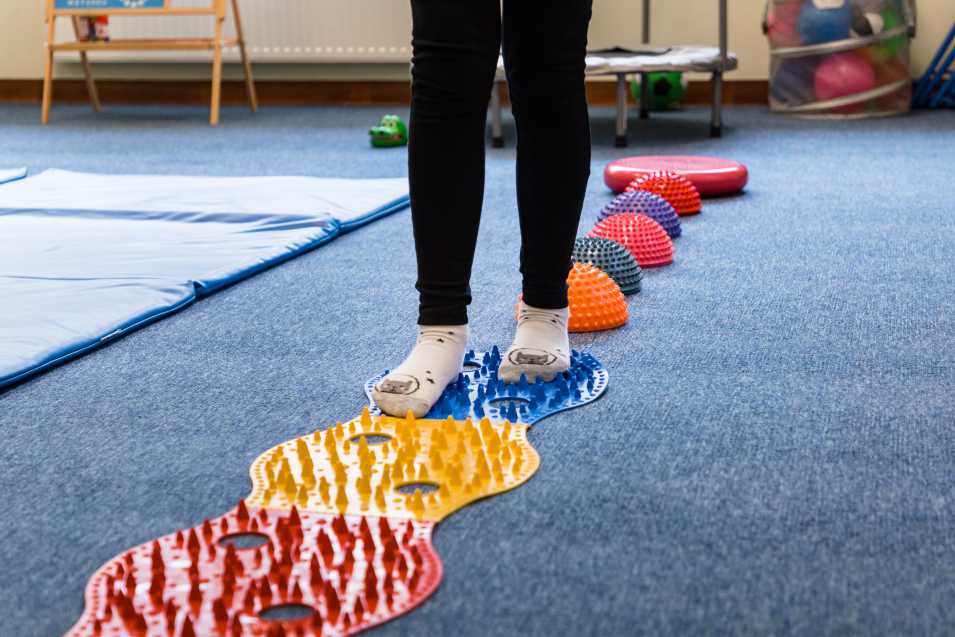 Dynamic Movement Intervention Training
The Dynamic Movement Intervention (DMI) Therapy method aims to develop functional motor control in children with developmental delays. It involves activities that foster relationship building, shared joy, and developmental growth.
Sessions are structured around the child's interests, and parents are encouraged to participate. Parents are trained to support their child's progress in therapy sessions.
DMI exercises target optimal anatomical alignment and maximize the range of motion. They also improve balance and range of motion and help a child achieve milestones. One important feature of the DMI method is that the exercises are progressive.
Once a child is able to stand with support, they can move on to less support and eventually walk without assistance. This progressive approach allows parents to effect real gross motor changes in their children.
This method relies on the hypothesis of neuroplasticity, which allows the brain to create new neural connections and develop motor skills. It consists of some exercises, each following certain criteria.
The goal purpose of the exercises is to teach a child to control more movements – from a general symmetrical motor response to a specific dissociated motor response, such as from kneeling to half-kneeling.
DMI Therapy Courses
DMI is a system of specialized exercises which target anatomical alignment and range of motion. These exercises also focus on balance and functional movement, a key ingredient in the development of milestones. These exercises provide sensory information to the brain, which improves neuromuscular function, balance, and postural control.
Children who are experiencing motor delays and other neurological conditions can benefit from DMI therapy. Children as young as 1-2 months of age can start receiving this therapy because it can stimulate the neuroplasticity of the developing brain.
The technique can also benefit children with Down syndrome and Cerebral Palsy. DMI is considered an excellent way to improve motor function and promote independence.
DMI therapy courses can help you improve your skills in handling and treating children with movement issues. During the in-person or virtual courses, you will learn how to use hand movements and supervised corrections to improve a child's motor skills. In-person courses cost US$800 per person.
DMI Therapy Salary 2023
DMI therapists work hourly. The lowest DMI therapist is $25, and the highest is $90. Considering the annual DMI Therapy salary, the lowest is $50000, and the highest is $200000. The average DMI therapy salary is around $80000.
Related Article: Occupational Therapy Salary