Infertility Counseling; If you're dealing with infertility and need help processing your emotions, seeing a counselor might be a terrific approach to obtain the emotional support you need. Counselors can teach you problem-solving strategies and help you work through grief, loss, guilt, shame, disappointment, anxiety, depression, isolation and other emotions.
Infertility counseling is also important for couples undergoing treatment using donor eggs, sperm or embryos. It can help you and your partner clarify the reasons behind your choice, discuss the potential impact on other relationships and ensure that you feel comfortable with the process.
Infertility counseling psychology
Infertility counseling is different from therapy for a variety of reasons. First, a woman with infertility isn't a typical client for therapy.
Second, a woman struggling with infertility may need more specific help than someone dealing with depression or anxiety.
Finally, a woman in the middle of her fertility treatment process may want support with decisions like whether to use artificial insemination or try to become pregnant naturally.
Infertility is an emotionally complex medical condition that can affect both men and women. Getting the right help can make a huge difference in the outcome of your treatment.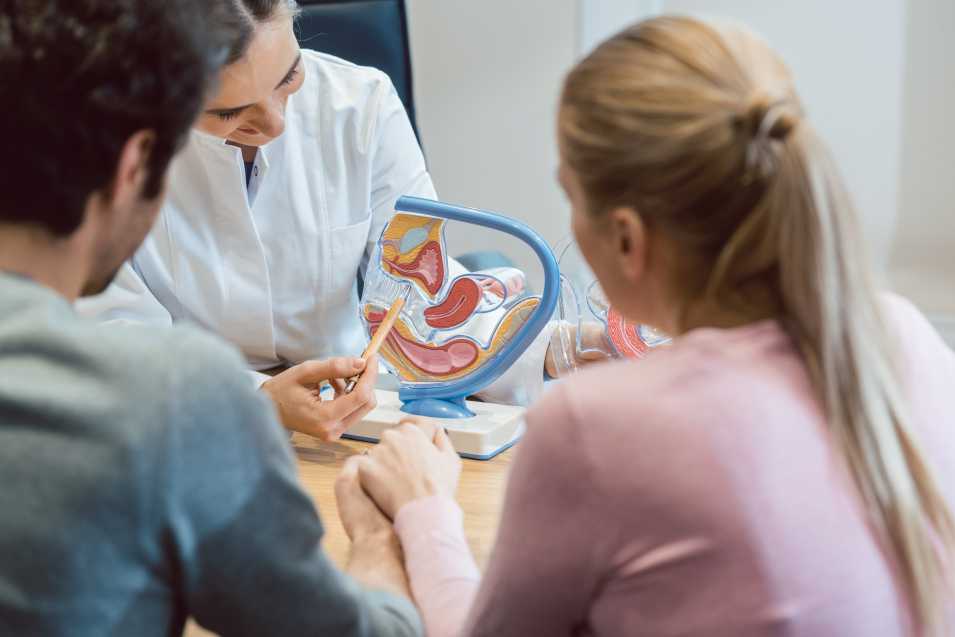 How to counsel a woman with infertility?
Women trying to conceive or have already undergone infertility treatments often experience stress, anxiety, depression, anger, denial, and guilt.
Counseling is crucial in helping couples and individuals cope with fertility issues. Especially when dealing with third-party reproduction, it can be essential to have a counselor who specializes in working with infertile couples.
A counseling relationship can help a couple make informed decisions about their options. It can also help them process information and ensure they understand what's involved in each step of the treatment process. It can also assist them in coping with feelings of loss, disappointment, and uncertainty.
Related Article: Couple Therapy NYC
Infertility counseling training and certification
Infertility counseling is a complex area of psychotherapy that requires medical and mental health professionals to develop the knowledge and skills to provide support, short-term crisis, and long-term therapy to couples and individuals with infertility.
The need for specialized infertility counselors is clear and growing. Individuals with various credentials, including MA, LCPC, MSW, PhD., PsyD, and psychiatric nurses (RN), can work in this field.
Ensuring that any infertility counselor is properly trained, qualified, and certified to provide infertility counseling services is important.
To become certified and properly trained in infertility counseling, one must complete specialized post-graduate training. This usually means completing a post-graduate degree in mental health, such as a Masters or Doctorate in Social Work, a Masters or Doctorate in Marriage and Family Therapy, or a Doctorate in Psychology.
After completing the post-graduate degree, there are additional requirements such as completing an approved continuing education program in infertility counseling, obtaining a license to practice clinical mental health services in the state, and obtaining a certification in infertility counseling from a recognized board such as the American Society of Reproductive Medicine (ASRM).
Infertility counseling ICD 10 – Treatment
Infertility counseling focuses on the reproductive system and is used to address infertility in women and men. Treatments include:
Advice.

Drugs to enhance a woman's fertility cycle.

Surgical procedures that treat underlying causes of infertility.
In most cases, these services are covered under a plan that covers infertility treatment. However, coverage is limited and may exclude some services, such as ovarian stimulation, in vitro fertilization, and sperm retrieval.
Some plans also exclude infertility treatment coverage for persons who have undergone sterilization or a hysterectomy, including tubal ligation and vasectomy with or without surgical reversal. 
Related Article: Does Birth Control Make You Infertile?
Infertility counseling NYC
If you seek infertility counseling in NYC, consider consulting a clinical social worker specializing in fertility issues. Ellen Jacobs, Ph.D., LCSW; Emily Hansen, LMFT; Rachel Parodneck, LCSW, and Lindsay Liben, LCSW (1) are experienced professionals who offer infertility counseling in New York. They offer individual, couples, and group counseling and specialize in working with various issues related to infertility, parenting, and trauma. 
They also support navigating reproductive choices, including assisted reproductive methods (e.g., IVF, sperm or egg donation, surrogacy), adoption, or other options. All clinicians are located in Manhattan and serve residents in all five boroughs of NYC, Upper West Side, Upper East Side, Bloomingdale, and Harlem.
Related Article: Premarital Counseling